Highlights
Anugerah Pengalaman Pembelajaran Imersif (Bersemuka) (MAGU 2020)

Congratulations

Madam Nurfauza Binti Jali - Senior Lecturer
Anugerah Inovasi dan Pengkomersialan Produk (MAGU 2020)

Congratulations

Dr Sze San Nah - Senior Lecturer
Stories
Library-in-a-box Demonstration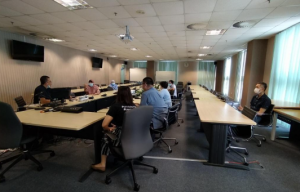 A simple demonstration of Library-in-a-box (LiaB) was conducted this morning by AP Dr Johari to researchers from varies faculties this morning. The discussion w...

Modelling the COVID-19 Transmission for Malaysia

Early this year starts the global journey in battling to control the spread of COVID-19. As of 27 May 2020, the total infected cases is way surpassed 5 million ...

Conferences
The 11th International Conference on Information Technology in Asia (CITA`19) is a premier international conference dedicated to address the advances

…

Read More

Disease Modeling Workshop is an annual event with the aim to bring together researchers in Applied Mathematics, Computer Science and

…

Read More